Chinese-American developer targets office condos in Austin's Chinatown area
Article Source:
Original Post Date: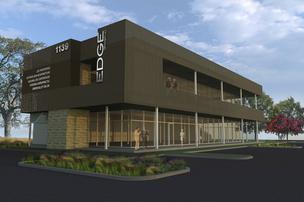 Posted on March 6, 2014
Source: Austin Business Journal
Austin developer Robert Lee has broken ground on an office condo project dubbed The Edge in the North Austin neighborhood he knows well — an area known for its many Asian-owned businesses near North Lamar Boulevard and Braker Lane.
Lee's mother, Rita Lee, was one of the first Chinese women working as a real estate broker in Austin, founding Lee Properties in 1982.
Robert Lee has owned the land where The Edge is being built at 1139 W. Braker Lane for many years.
"We've had it permitted since 2006 or 2007 but then we got hit with the downturn," Lee said. "We decided to redesign it with a more modern look."
His company, LD&C, has developed numerous projects locally, including 21 Pearl, a student housing apartment project in the West Campus area of the University of Texas.
Though multifamily and single family housing has been his forte over the years, he built other commercial projects including The Edge.
"We really feel like there's a need for neighborhood offices, which no one else is doing," Lee said.
The 12,100-square-foot, two-story building is designed by Austin-based Runa Workshop. Office suites will be available from 1,000 to 6,000 square feet and sell for an introductory price of $180 per square foot.
The office condos are near a number of large tech companies, including IBM Corp., OracleCorp., National Instruments Corp. and Hewlett-Packard Co.
Lee said they will appeal to professional services companies, such as law and accounting firms, or medical office users. He also decided to sell the space as condos with the intent of attracting companies who want to be in the neighborhood for the long term.
Read more at Austin Business Journal